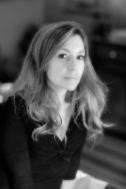 I began my professional life as an architect, and have worked as such in Germany, Sweden, the US, UK and in Spain. I am now based in between London and Barcelona.
I studied combined engineering and architecture, and it was my training at the Architectural Association School of Architecture in London that gave rise to an enduring obsession with borders, ambiguity and uncertain and unstable territories.
Through my art I seek to explore how I can capture moments of stability in an otherwise unstable equilibrium. Fabrics, sutures, scaffolding (which often establish borders that are temporary) all feature prominently in my work. I look for balance, but always on the edge. I like to recreate areas of uncertainty and the sense of regions on the verge of collapse. I work in a variety of ways, but typically I create small model pieces or a set of sketches that I digitally scan and then play with and alter. Other times I just work with landscapes and more organic topographies but always looking at the edges and the boundaries as a way to show instability. My work process is a mix of old fashioned architectural draughtsmanship, painting, inkjet media, collage all crafted carefully by hand. The results are mixed media paintings that portray unstable topographies. Some of the work I am doing now is only based on drawing, inking and acrylic painting although the feel is equally architectonic.